Just because I'm a nutritionist doesn't mean I want to cook dinner EVERY single night.  Why would you live in Balmain if you didn't take advantage of all our wonderful restaurants and cafes?
And just because I'm a nutritionist doesn't mean EVERY meal has to be healthy – because life is about BALANCE – right?  However sometimes it's great to have a meal out that is healthy and leaves you feeling fab instead of bloated and heavy.
When I'm eating out, I like to follow my healthy plate model – 1/2 plate of veggies, a palm size piece of lean protein, a cupped handful of quality carbs (wholemeal bread, brown rice, quinoa or sweet potato or corn) and a thumb of good fats (avocado, olives, nuts). I usually find that even if a meal comes with veggies it's not really enough to fill half my plate so I pretty much always order a side of veggies.  I like to use the strategy of "crowding" – filling up my plate with a lot of veggies so I crowd out the less healthy options.  By focusing on the foods you want to eat more of you'll feel full and you won't feel deprived.
Here are some of my family's favourites.  I'd love other suggestions too!
Our Place on Darling
I think this is probably my number one choice for a healthy meal.  I love how they always bring you an amuse-bouche of soup – and over the many years we've been coming here – this has been a great way to introduce my kids to a wide range of new flavours.
My two current menu faves are the crispy skinned barramundi with warm roast cauliflower and pickled grape salad or the marinated lamb rump with the pumpkin and goat's cheese salad.
The Royal Oak, EVH and other local pubs
If you haven't been for a while The Royal Oak have really upped their salad game recently.  The hot smoked salmon salad nicoise is delicious as is the grilled lamb rump with couscous salad.  If you fancy something very light the burrata, fresh, heirloom tomato and basil is great. If you are going for a burger or steak try the steamed greens with olive oil or the roasted cauliflower on the side to include some fabulous veggies with your meal.
You can't go wrong at the EVH or any of the other pubs with a small steak or grilled fish with some salad on the side.  Had a terrific smoked salmon nicoise at the EVH the other day too.
I think vegetarian options at our pubs could be improved though – they do tend to be very carb heavy such as risotto or very light like a salad.
Il Grappolo and One Ford Street
Il Grappolo serves traditional italian food made with love – really fresh and nutritious.  Can't go too far wrong with most of their secondi such as John Dory fillets on sautéed zucchini,  grilled king prawns with rocket and lemon or pan seared veal with white wine, lemon and broccolini.   Similarly One Ford St have a couple of great mains – tuna with  carrots, celery & fennel salad  or spatchcock with  chilli, garlic & broccolini.  Always worth getting a couple of side dishes of contorni (vegetables) with your meal.  Again vegetarians are offered pasta or rice dishes but these tend to have a better balance of portion sizes.
Samurai, sushi man, sushi mate
You can put together a pretty healthy meal at Samurai or one of the other Japanese restaurants around Balmain.  We normally go for a sashimi platter, edamame, eggplant in miso, and beef with asparagus (you can't go too nuts on the wasabi mayo though).  Another friend raves about the teriyaki chicken and poke bowls at sushi mate.
Other ideas:
Fourth Fish have taken over from Love Fish and are doing a fabulous job. Order some grilled fish and a couple of veggie sides.
Cantina do a terrific fajita salad bowl, and their fennel and orange salad is delicious. I like their fish, prawn and chicken tacos too.  You probably don't need me to tell you to go steady on the coronas!
Chon Thai – Let's face it it's hard to find healthy thai food these days – the sauces are so sweet. However I do love Chon's salmon salad with green apple, and chilli lime dressing and I'll never say no to a pomelo salad with king prawns, roasted coconut, peanuts and betel leaves.
Please note these opinions are mine, from eating a LOT of meals out around Balmain and Rozelle over the last 19 years of living here.  I haven't been offered any free meals (sadly).  I've talked to my friends and included their suggestions here.  I decided just to cover dinner options here – brunches next time.   I'd love to hear your healthy meals out too.    
ITCH THE ALL OR NOTHING THINKING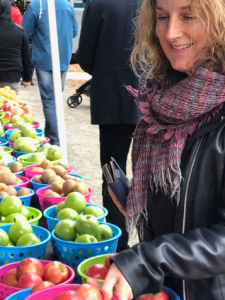 Rachel is a university qualified nutritionist based in Balmain, Sydney, with a Masters in Human Nutrition. She takes an evidence-based approach to nutrition and offers tailor-made plans that are flexible, achievable and sustainable. She is also the busy working mum of two teenagers, so she is practical and realistic with her advice. She is trained in the Health at Every Size® and Non-Diet approach to weight management, and can assist you to lose or gain weight in a safe, sensible and permanent way. If you'd like to set up life-long habits to improve the general wellbeing of you and your family but lack time, Rachel can help. Similarly, Rachel can offer support if you have special dietary requirements or intolerances, would like to discuss nutrition during pregnancy, when planning to conceive, or breast-feeding, or if you're struggling with peri-menopausal, post-menopausal or hormonal weight gain. Get in touch here:
m: 0450 524611